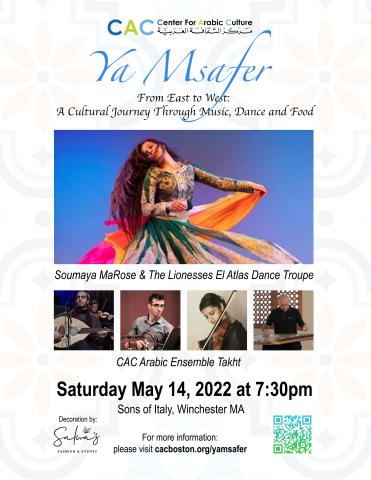 Ya Msafer: From East to West, A Cultural Journey through Music, Dance, & Food
On Saturday May 14, 2022, from 7:30 to 11:00 p.m., the Center for Arabic Culture will hold a cultural celebration through music, dance, fashion, and food, showcasing an artistic journey throughout the Arab World.
Artist and dancer Soumaya MaRose and her dance troupe "Lionesses El Atlas" will perform diverse musical pieces representing rich cultural examples from different parts of North Africa, the Arab World, and the Middle East, accompanied by a group of talented and award-winning musicians in Boston, such as Tareq Rantisi, Jamal Sinno, Ghassan Sawalhi, Bengisu Gocke, Susana Hajjar, and more.
The event will feature authentic Moroccan food (light dinner, Moroccan traditional sweets, Moroccan mint tea and a cash bar). Children 12+ are welcome.
Location: Sons of Italy Hall, 117 Swanton St. Winchester. Tickets are $50 and must be purchased in advance (no tickets at the door) at cacboston.org/yamsafer/.