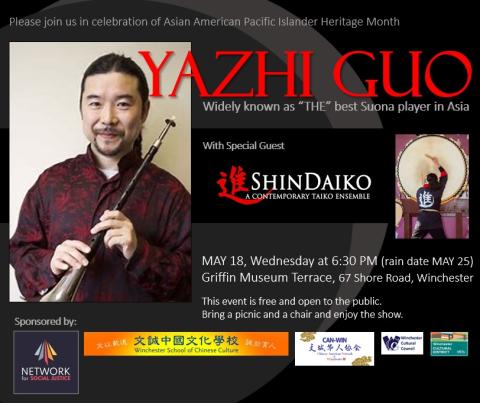 Winchester celebrates Asian American Pacific Islander Heritage Month with a special performance on May 18, 2022 at 6:30 p.m. at the Griffin Museum of Photography, featuring Yazhi Guo, called "THE best suona player in Asia", and the ShinDaiko Japanese Taiko Drumming Ensemble. The performance will be outdoors—rain date is May 25.
Chinese wind/reed instrument virtuoso Yazhi Guo "can play anything", but is especially known for his incredible ability with the suona, a Chinese double reed instrument something like an oboe. A charismatic performer, he has been called "China's Louis Armstrong" on Boston radio. Guo was the winner of the 1998 International Pro Musicis award and the 2012 Hong Kong Award for Best Artist. A graduate of the Central Conservatory of Music in Beijing, he came to Boston in 2012 to study jazz at Berklee, where he received an artist diploma in 2015 and then toured China with the Berklee Jazz Band.
Guo invented the "Flexible Core of Suona" that solved the problem of playing complicated modulations and temporary inflexions on the instrument, allowing suona to play in orchestras and significantly broadening the expressive force of this instrument. He performed at the official State Banquet in Beijing for visiting President Clinton in 1998, as well as on television and at several large-scale solo concerts to sold-out audiences in Hong Kong and China. Now we can hear him in Winchester!